RSVP for service on Saturday the 26th, and Sunday the 27th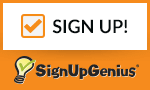 Service for 9/20/2020:
Go to our Youtube channel for our Worship Archive
COVID-19 Announcement
We continue in Phase II of our stage re-opening. This allows for 50 persons to worship. Please RSVP to worship through the sign-up genius above. If the situation with the virus worsens, we may downgrade again to Phase I which will call for online services only.
Please stay connected through the church's Facebook page: https://www.facebook.com/RELCgretna
and through our YouTube channel: https://www.youtube.com/channel/UCjXnhZfhxipkc5ZTA6SrHUw
Reach us at:
Address: 153 South McKenna Avenue, Gretna, NE 68028
Phone: 402-332-3383
Email: theoffice@relchurch.net
Website: http://www.relchurch.net
Facebook: https://www.facebook.com/RELCgretna/
Instagram: @RELCgretna
Twitter: @RELCgretna
Band: click this link to request to join our Emergency Communication System! 
Donate:
Automatic Withdrawal
Text: 402-875-6081  ($amount)
Online: at Vanco Payment Portal
Or: Weekly Envelope